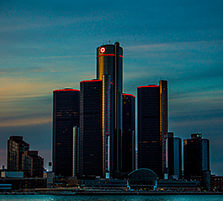 When you are planning to spend a night on the town in Detroit, there are so many hot nightspots to hit! Whether you're packing in as many destinations as you can, or just heading out to a few key selections, the best way to visit all of them is to rent a limousine from Limo Detroit. We have the finest vehicles that Metro Detroit has to offer, and our professional chauffeurs are the best in the state, really knowing how to get you from Point A to Point B (and to all the points in between!) with style, safety, and comfort. We've taken some time to put together a concise guide to a night on the town in Detroit, and we hope that some of the ideas below will help you to plan the perfect Detroit excursion!
EXCITING IDEAS FOR A NIGHT ON THE TOWN IN DETROIT
Bar Hop/Club Hop/Pub Crawl
There is nothing more fun than to organize your own pub crawl, or to get a big group of your friends together to head out to all the hottest bars and clubs in Detroit and the surrounding areas! This can be hard to do when you're travelling on your own in multiple cars, because you'll need multiple designated drivers, and then there are the problems of traffic, getting lost, parking, arriving at the same time... we could go on and on. When you travel with Limo Detroit, you will be picked up and dropped off at the door of each destination. You don't need to select a designated driver, because our chauffeurs are the ones taking care of all the transportation. And best of all, you can continue the party on the road by bringing your own alcoholic beverages to stock the bar in the limo. We provide ice and cups! For more info, visit Limo Detroit's Guide to Bar Hopping/Club Hopping/Pub Crawls.
Annual Events in Detroit
There are so many wonderful evening events that are held annually in Detroit, ranging from museum-sponsored events to city-wide celebrations. Throughout the year there are so many excellent events to choose from, including Noel Night in December, the North American International Auto Show in January, Winter Blast in February, the Detroit Electronic Music Festival (DEMF) in May, Midsummer Nights in Midtown on the weekends in June, and of course the International Freedom Festival and Fireworks in late June or early July! Those are just the tip of the iceberg, so for more information you'll want to view Limo Detroit's Guide to Annual Events in Detroit.
Bachelor/Bachelorette Parties & Birthday Parties
Limo Detroit has provided transportation for so many bachelor/bachelorette parties and birthday parties in Detroit, and if that is the reason that you are heading out for a night on the town in Detroit, we hope that you will consider our services for your needs! These are some of the bigger celebrations in life, and when you're going to see the hotspots of Detroit, you've got to do it big. Imagine pulling up in a sparkling clean and perfectly maintained limo. You'll be able to do plenty of partying on the road in between destinations too! Just bring your own drinks, because again, we stock our bars with all the ice and cups that you'll need. Here are three pages that will help you out with planning all of the above events:
Limo Detroit's Guide to Detroit Bachelor Parties
Limo Detroit's Guide to Detroit Bachelorette Parties
Limo Detroit's Guide to Detroit Birthday Parties
LIMO DETROIT'S FAVORITE DETROIT BARS, PUBS, AND CLUBS
We have spent many years taking our customers to and from all the great establishments that Detroit has to offer, and we have gotten to know which ones are the best of the best. Here are our recommendations, coming both from us personally, and from our most frequent customers.
Cliff Bell's (2030 Park Avenue)
Again and again, we rate this one our top pick. One of the originals from 1935, closed for about 20 years after it shut its doors in 1935. The blues and jazz will absolutely blow your mind, and the food and drinks are just out of this world.
Foran's Grand Trunk Pub (612 Woodward Avenue)
Formerly the Grand Trunk Railroad's ticket station, this pub has a style and charm that others can only try to match. Historic, impressive, roomy, unique. If you're hungry for a bite, try the shepherd's pie, and pair it with an ice cold pint of draft beer.
The Ol' Shillelagh (349 Monroe Street)
When it comes to Irish pubs, The Ol' Shillelagh is sort of the flagship operation in Detroit. It's been that way since 1975 when they opened, and little has changed in all those years. Classic ambiance, great live music, and always a fun and lively crowd.
Garden Bowl (4120 Woodward Avenue)
Bowling in Detroit is always fun, and this bowling alley happens to be America's longest running! Incredible. It's the home of Rock-n-Bowl, and they've got so much to do here, from live music to dancing, from food to drinks. Everything you need in one spot.
Cadieux Cafe (4300 Cadieux Road) We love this little Belgian pub, with its cool speak-easy vibe left over from the real days of Prohibition. They are known for their steamed mussels (they're absolutely magnificent!), and the feather bowling is definitely something unique to do any night!
Town Pump Tavern (100 W Montcalm Street)
Located inside the Park Avenue Hotel and conveniently close to Second City Theater, you might want to include all three of those in your plans! We love the retro ambiance, and the live entertainment is always fantastic. Great pizzas, and cheap drinks!
O-Zen Lounge (21633 W 8 Mile Road)
This place has got the coolest Asian decor that really makes you feel relaxed and at ease. They have both live bands and DJs here, so there's always something good to listen to, and their sake bombs are just the perfect way to get your buzz going!
WHEN YOU'RE READY TO RENT YOUR LIMOUSINE...
We hope that the articles that we linked to above are very helpful in planning your night on the town, and that the bar and club recommendations above will also fit into your plans. If you need help putting those plans together, or if you'd like to talk to us about locking down your desired date of service, just give us a call or send us an email. You will find our contact info here. Thank you!