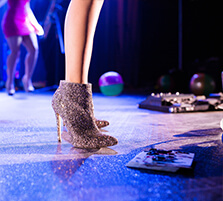 Detroit bachelorette parties can be as wild as you want or as relaxed as you could ever dream of, depending on your needs. Limo Detroit has a lot of suggestions that you might be able to get some ideas from for your own big night on the town, or in your neck of the woods as the case may be! We've put together a short list of our favorite Detroit bachelorette party venues, followed by some ideas that you might like to incorporate at your parties whether they are at home or away! There's nothing quite like a fun night out with the girls, and this one is bound to be your best yet, as well as being the official send-off before your wedding day! Let's talk venues first.
OUR TOP THREE DETROIT BACHELORETTE PARTY VENUES
#1: O-Zen Lounge (21633 W 8 Mile Road)
O-Zen Lounge gets our top recommendation for bachelorette party venues located within the city of Detroit. As the name suggests, it has a cool Asian theme that is relaxing and mellow. There are lots of Buddhas sprinkled throughout the bar, as well as Chinese lanterns to provide light and warmth. The music is hot and modern, with both DJs and live musicians making their mark here. We suggest a sake bomb or a specialty drink in a Buddha glass! The perfect place for your last wild night out.
#2: Town Pump Tavern (100 W Montcalm Street)
Town Pump Tavern has a cool retro pub vibe that we have always loved, and if that's the theme you're wanting for your bachelorette party, this is your place! They've got great live music for you to enjoy on the weekends, and the crowd tends to be young and hip. Everybody loves noshing on the pizzas here, and their drink specials are quite noteworthy as well. You'll love the proximity to Second City Theater, and the fact that the bar itself is located in the Park Avenue Hotel also makes it convenient if you plan to stay.
#3: Cliff Bell's (2030 Park Avenue)
If you had a more sophisticated Detroit bachelorette party in mind, you should definitely consider Cliff Bell's as your destination of choice. This restored classic is one of the best-known and best-loved restaurants and bars in all of Detroit, and the jazz that is played here is just unbelievable. You will not find higher quality food anywhere. The macaroni and cheese is as authentic and delicious as you could ever imagine, and the hot chocolate martini is superb. Very strongly recommended for any occasion, including your Detroit bachelorette party!
MORE IDEAS FOR DETROIT BACHELORETTE PARTIES
Who said all there is to do at a bachelorette party is drink and dance? There are tons of games and activities that you can incorporate into your party! Here are a few of our favorite ideas and party themes:
+ A night at the casino is the perfect way to party with the girls! A little gambling, a little live entertainment, a little gourmet food, and a lot of fun! You can't go wrong with an evening at MGM Grand, Motor City Casino, or Greektown Casino! Limo Detroit regularly takes our customers to these casinos, and we know the fastest and safest ways to get you there and back with ease.
+ Wherever you're hanging out for your party, whether it's at home or in a private room at a bar, you can definitely play some of your favorite party games like Twister, Truth or Dare, I've Never, or The Newlywed Game if yours happens to be one of the modern co-ed parties! You decide just how wild you want the games to get!
+ How about the idea of hiring a fortune teller, Tarot card reader, or a psychic to read you and your girlfriends' fortunes at your bachelorette party? Whether you and your friends regard it as an exact science, pure entertainment, or somewhere in between, it's sure to be a memorable experience that you'll be talking about for years to come!
+ A spa day is always a welcome retreat, whether it's for your bachelorette party or for any occasion! Heading out to your favorite salons and spas in one of our luxurious limos is one of the best ways to pamper yourself. Taking traffic and parking worries out of the equation just may be the most pampering element of all!
+ For those who love to get their groove on, there are plenty of enticing and exciting dance classes offered in and around the Detroit area. Maybe you'd like to take your girls out for a salsa lesson — or perhaps you'd like to really get wild and try a pole dancing lesson! No matter what you choose, it's an amazing workout, and a very fun time.
+ If you've got something more relaxed and reflective in mind, why not rent a cabin or cottage? Limousine transportation is perfect for getting you and all your girlfriends there, and you'll be able to sip your favorite wine on the way up there too. Imagine going up north without having to decide who is doing the driving. No filling up the tank, no getting lost, no detours — because our professional chauffeurs are taking care of every last detail for you.
Those are just a few of our favorite ideas, but we are more than happy to accommodate any ideas that you have in mind, and if there's anything we can do to make your party an even bigger success, just let us know.
RENTING A LIMOUSINE FROM LIMO DETROIT FOR YOUR PARTY
No matter what you choose to do for your Detroit bachelorette party, transportation provided by Limo Detroit is the easy choice. Why? Because you and your guests will enjoy getting to all of your destinations in both style and comfort, without ever having to worry about a designated driver, or even if you're not drinking, you'll be free of worries about traffic and parking! We offer special bachelorette party packages to help you save money, and we have even more suggestions for you if you'll just give us a quick call or send us an email. Contact us anytime for more information!