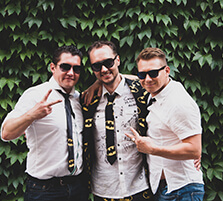 Detroit bachelor parties are known for being wild and raunchy, but that's far from your only option when it comes to your last night of freedom! In this guide we'll share with you a few of our favorite venues for a guys' night out, which include a couple of amazing bars and the best strip club in Detroit. Below that you'll find some more unusual ideas for your Detroit bachelor party, including Michigan sporting events outings, and even full-on hunting trips! All of which, believe it or not, can be perfectly served by limousine travel from Limo Detroit. Read on to find out more about how to make your Detroit bachelor party one of the most unforgettable nights of your life!
OUR TOP THREE DETROIT BACHELOR PARTY VENUES
#1: Pulse Lounge (156 Monroe Street)
Pulse Lounge is one of the hottest nightspots in Detroit. The atmosphere has been described as "electric," with industrial decor and mellow lighting that can be relaxing or enlivening depending on your mood and style. Not at all overpriced! You will enjoy the drink specials here — we especially enjoy their martinis, and their selection of beer and fine spirits is pretty impressive too. The people who work here are naturally friendly and welcoming, so you'll feel right at home for your Detroit bachelor party or any other event.
#2: Bleu (1540 Woodward Avenue)
If you remember Bleu from its first incarnation, you'll be thrilled to know that it's back on the Detroit scene. The electronic music scene is really pumping here, so if that's your style, we can't think of a better place to enjoy your bachelor party! The acts that play here are sensational, and you'll love the go-go dancers and all the ample room for dancing. We've heard Bleu described as "legendary," "epic," and a slew of other phrases that firmly cement it as a winner in our minds. Very highly recommended!
#3: Penthouse Gentlemen's Club (20771 West 8 Mile Road)
The Penthouse Club is the most upscale strip club in all of Detroit, and though it's more expensive than most of the others, we believe it is worth it. They have both live music and DJs here, and if you come in during happy hour you'll shave some money off of your bachelor party expenses! The Vegas vibe is strong here, and we love it. The wildest thing is the dancers gyrating on motorcycles that are suspended from the ceiling. You haven't lived until you've seen that! The dancers, by the way, are the best looking in Detroit as far as we're concerned! If an adult entertainment venue is in your bachelor party plans, we highly recommend this one.
MORE IDEAS FOR DETROIT BACHELOR PARTIES
The suggestions above are great, but what if you want to do something a little more adventurous and/or different for your bachelorette party? After all, at best we only have one of these in our lifetime, and we should do something that fits our personality and style to a T. Below you will find some of our best non-traditional bachelor party ideas — feel free to customize these to your heart's content or come up with something completely different for your own party!
+ Something we always suggest, even prior to a traditional bachelor's night on the town, is a pre-bachelor party breakfast! It's so fun to head out with your best friends and enjoy one of the best crack-of-dawn meals that Detroit has to offer! Our favorite places to go for breakfast in Detroit include Original Pancake House, Lafayette Coney Island, and American Coney Island. Gotta fuel up before a big night of living it up, and a breakfast at any one of those establishments will have you raring to go!
+ If you're an outdoorsman, you might want to skip all the traditional "bar and strip club" kind of bachelor party events and just head out for a weekend hunting trip with your buddies! Some of our most loyal customers, believe it or not, are hunters and outdoorsmen! You may not associate limousine travel with hunting, but when it's a special occasion trip and you want to travel in the utmost luxury and class, why not? You can "rough it" when you get to your destination. On the road, we give you license to live it up.
+ If you're a Michigan sports fan, there is no doubt that heading out to any one of our big games is another excellent way to celebrate your bachelor party. Whether you're a fan of Red Wings hockey, Lions football, Pistons basketball, or Tigers baseball, you can always head out to their respective venues and enjoy a game, some drinks, and some great food with all your buddies. There's no better way to get to any of those events than in a spacious, cozy limousine provided by Limo Detroit!
+ Music lovers might want to head out to one of Detroit's famous concert venues to enjoy a live show. In our downtown area you can find classics like the Majestic Theatre, the Fillmore (formerly The State Theatre), and the Fox Theatre. Out in Auburn Hills, we've got The Palace of Auburn Hills which in addition to hosting our Pistons games, also hosts most of our big name concerts now that the Silverdome is no more. A concert is definitely a great addition to a night of bachelor party festivities!
RENTING A LIMOUSINE FROM LIMO DETROIT FOR YOUR PARTY
Limo Detroit transportation is the best choice for bachelor parties in this area, because not only are we the most affordable limousine company in the Metro Detroit area, but we are also the best. We only hire professional chauffeurs, unlike other companies in the area that hire regular drivers, and our attention to detail and quality really sets us apart from all the rest. In addition to all the usual perks of renting a limousine from us, we also offer specialized bachelor party packages to add even more fun and savings to your night. Just give us a call or send us an email to find out everything you need to know to begin planning the bachelor party that's custom-made for you.