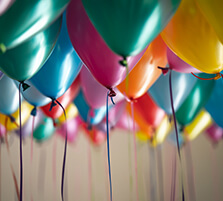 When you are planning a Detroit birthday party, there is absolutely no better way to hit the downtown area in style than in a classy limousine from Limo Detroit. We are the limo company that is best equipped to take you out on the road both safely and affordably, and we work hard to ensure that our service is a cut above the rest. Professional chauffeurs, incredibly impressive interiors in all of our vehicles, and an expert staff who can help you choose the perfect limo as well as help set the plans in motion for an unbelievable night on the town. It doesn't matter if you're celebrating your 21st birthday, your 30th birthday, your 50th birthday, or your 100th! We are the ones who know best how to serve your needs. We even provide plenty of service for sweet sixteen parties in our area! We'll talk about all the best ways to celebrate your birthday while travelling with Limo Detroit right here on this page.
BIRTHDAY PARTY IDEAS FOR EVERY GENERATION
Sweet Sixteen Parties
If your teen is celebrating their sweet sixteen party, why not hire Limo Detroit to provide the transportation for their big day? One of the biggest concerns for parents when their teens hit this age is distracted driving. It's become such a big issue that you even see it on the news. This is especially a pressing problem on their birthday, when there are so many exciting things going on. The best way to ensure their safety is to rent a limousine and leave the driving to the professionals. Your teen and their friends will absolutely love travelling in a spacious limo — whether they are hitting various destinations around the Detroit area, or simply picking up all their friends and then heading back to your place for a super bash at home!
21st Birthdays
If you're turning 21, odds are you are planning to hit up some of the best bars and nightclubs that Detroit has to offer, such as Cliff Bell's, The Ol' Shillelagh, Foran's Grand Trunk Pub, Cadieux Cafe, Garden Bowl, Agave, Carriage House, and more. You've got to have your first drink in style, and there is no better way to do it than by travelling to it in the limo! We can deck out the limousine in 21st birthday decorations, and you'll love travelling around to pick up all your friends, and then heading out to all the exciting nightspots in our beautiful city and the surrounding areas. You'll be dropped off at the door of every bar and club, so you will never have to concern yourself with parking or any such hassles! And even better, you won't have to think twice about a designated driver! Our professional chauffeur is the best designated driver you could ever have.
30th Birthdays
Many consider 30 to be "Over the Hill," and if you are planning a wildly fun Over the Hill party at a local hall or party space, or perhaps at your favorite bar or other nightspot, we are the ones to get you there safely and affordably. You can take advantage of our services to help you transport all the decorations, food, and other goodies to the party, and we can even pickup and dropoff all your guests for you, if you like! No matter where you're celebrating, you will love having a professional chauffeur at your disposal all night, so you can do whatever you'd like to do and go wherever you'd like to go without thinking twice about traffic, parking, designated drivers, or any of those other complications. What better way to treat yourself for your 30th birthday than with a limo?
40th, 50th, 60th, and Beyond
As you celebrate more and more birthdays, you find that your taste and style becomes more refined, and you know better the ways in which you'd like to truly celebrate a magnificent birthday. If you're still a wild party animal and you want to hit all the most exciting bars and clubs in Detroit, you know who to call (us!), but if you've got further interests that you'd like to center your party around, you need to know that we are more than equipped to take you there. Many of our 40-and-up birthday celebrations include such wonderful destinations as gourmet downtown restaurants, art museums, historic sites, ballroom dancing events, Michigan wine tours, boat excursions on the Detroit river, and much more! Our limousine travel services fit into those kinds of birthdays so perfectly, and we can put our expertise to work in making your day as pleasureful and serene as possible!
WHY CHOOSE LIMO DETROIT FOR YOUR BIRTHDAY PARTY?
There are so many reasons to consider limousine travel service for your big day, and even more reasons if Limo Detroit is the company that you are considering as your service provider! We have so many years of experience providing our city and the surrounding suburbs with the kind of experience on the road that so few can offer nowadays. We do everything that we can to ensure a truly memorable time. It begins with choosing the perfect vehicle, which our expert team can do for you according to your needs, or you are more than welcome to come down to our place of business and choose one for yourself. Then it's all about the planning process, which we are more than happy to help you with. And from there, you can just relax, because we'll be taking care of all the travel concerns on your birthday. Bring your favorite beer, wine, and liquor into the limo if you like — we provide the ice and cups. Don't forget to choose some of your favorite CDs, or just bring your iPod and hook it up to our high quality sound system. And then? Just live it up! You can give us a call or send us an email anytime, and you'll find our contact info here. We look forward to making your birthday a truly once in a lifetime experience!