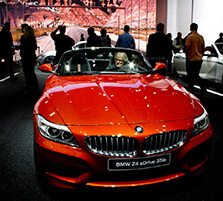 The annual events that Detroit's metropolitan area hosts are always a great reason to rent a limousine from Limo Detroit. Whether you're visiting Detroit for the first time or whether you have lived in "The D" your entire life, these events are an exciting way to spend an afternoon or a whole day. There are always so many wonderful things to do in and around the downtown area, as well as in the surrounding suburbs and cities, and we'd love to talk to you about all the annual goings-on that Limo Detroit proudly takes customers to every year. We hope that you'll have the chance to enjoy our transportation when travelling to some of these this year!
Noel Night
Noel Night is possibly our favorite event in Detroit in December, and so many Limo Detroit customers request transportation service to this each and every year. They have been going strong for about four decades at the time of this writing, and so many people say that it's their favorite way to support all our local businesses, including galleries, museums, and restaurants. In Midtown Detroit's Cultural Center Area, about three dozen of our most beloved libraries, museums, and galleries open up to the public, free of charge, for what we like to think of as a holiday season open house. There are carriage rides, shopping opportunities, and performances by hundreds of different local groups! The community singalong at the end is the perfect way to cap off a wonderful event. You can save money by renting our pickup and dropoff services for this event — we'll take you there and then come back to pick you up when you're ready to go back home!
North American International Auto Show
Without a doubt, the biggest event that Detroit is known for in January of each year is the North American International Auto Show, or simply "The Auto Show" as all of us Michiganders call it! Limo Detroit customers prefer to skip the formalities and just head down there with a bunch of friends in one of our cozy limousines. The perks are that you can skip worrying about traffic and parking, and be dropped off right at the door! After you're done checking out all the concept cars and new attractions, Limo Detroit can zoom you out to all the hot restaurants and nightspots that are dotting the Detroit skyline!
Walk America
Walk America takes place every April in Detroit to benefit the March of Dimes. Whether you're volunteering, walking, or heading out there to support your friends in their charitable strides, so to speak, you can definitely benefit by heading out there in a comfortable limo from Limo Detroit. You can put Walk America and March of Dimes signs on the outside of the limo if you like, to further show your support of your cause. Please give us a call to discuss other ways that you can take advantage of our luxurious limousine travel for all of your upcoming charity events!
Downtown Hoedown
The Downtown Hoedown takes place in May/June, presented by 99.5 WYCD Detroit's Country radio station. The thing that really stands out in our minds about this annual event is the local bands that make it so lively. As Detroit natives, it is wonderful to see events that both support the arts and uplift our local musicians. In recent years they have let their listeners vote on who will play at the Hoedown, and perhaps they will be doing the same this year. You can stay tuned to WYCD's website for all the latest on the artists who will be playing there this year, and make sure to bookmark our page too so you can call us for limo service when you're ready!
Detroit Electronic Music Festival (DEMF)
The Detroit Electronic Music Festival is another huge event that takes place in May, over Memorial Day weekend, and electronic dance music lovers absolutely cannot get enough of this one. It's been taking place since the year 2000, and since 2001 it has been held at Hart Plaza in our downtown area. Detroit, of course, is the birthplace of techno, so attending DEMF here in Detroit is the ultimate nod to the music that you love. If you're heading down there this year and you want to do it in style, we can't think of a better way to do it than in a limousine from Limo Detroit.
Greektown Arts Festival
The Greektown Arts Festival is a three-day extravaganza of amazing jazz, blues, and gospel performances right in our favorite area of Detroit, the area known as Greektown, which is found at Monroe and Beaubien Streets. Of course the Greek food that this area is known for is a huge part of the festivitites, and it's almost a bigger reason to head down there than the music and art!
Midsummer Nights in Midtown
Replacing the Detroit Festival of the Arts, Midsummer Nights in Midtown is a newer event, presented by The University Cultural Center Association (UCCA) and Wayne State University (WSU). It takes place every single Thursday, Friday, and Saturday in the month of June, and they present a huge array of cultural entertainment including dance performances, jazz performances, readings by poets and authors, and activities that the whole family can get involved in.
Susan G. Komen Race for the Cure
Susan G. Komen Race for the Cure has always been one of our favorite Detroit charity events, supporting the Susan G. Komen foundation in the search for a cure for breast cancer. Whether you're an advocate or joining the race yourself, or perhaps heading down there to support your friends who are walking, our customers have always enjoyed Limo Detroit's transportation for charity events such as this one. We hope that you'll consider us if you're attending the Race for the Cure!
Detroit International River Days
River Days is possibly one of the most looked forward to events in all of Detroit, and our customers absolutely love it. It lasts for three days and it features so many family friendly activities that all ages enjoy, plus all the carnival rides that you loved when you were a kid, and so much more. Your attendance there helps to support the Detroit RiverFront Conservancy, which has renovated more than three miles of our beautiful riverfront into an incredible publicly accessible area that all Michiganders love.
International Freedom Festival and Fireworks
Summer in Detroit wouldn't be right without the fireworks! Of course this is one of the biggest events that our city offers, and as such, it is always packed. If you want a prime spot — or any spot at all! — we recommend getting there plenty early. It's about more than fireworks here. There is delicious food, a singing competition, and so much more. If you can only attend one event in Detroit this year, this is probably the one we would recommend most highly. Limo travel for this event is a must!
MORE OF OUR FAVORITE ANNUAL EVENTS
Winter Blast (February)
Hamtramck's Paczki Day Celebration (February)
Ann Arbor Film Festival (March)
Metro Times Blowout Music Festival (March)
St Patrick's Day Parade (March)
Festifools (April)
Detroit Music Awards (April)
Shrine Circus (April)
Plymouth's Green Street Fair (May)
Art Birmingham (May)
Eastern Market's Flower Day (May)
The Henry Ford's Salute to America (Memorial Day Weekend)
Woodward Dream Cruise (August)
Reenaissance Festival (August)
African World Festival (August)
Detroit International Jazz Festival (Labor Day Weekend)
America's Thanksgiving Day Parade (November)
RENTING A LIMOUSINE FOR DETROIT'S ANNUAL EVENTS
There's no better way to attend all of the wonderful annual events that Detroit has to offer than to rent a limousine from Limo Detroit! You can rent all-day service or just pickup and dropoff service — it's up to you! We are happy to work with any budget, and we are without a doubt the most affordable limousine company in the Metro Detroit area! When you are ready to talk to us about attending some of the events above, or perhaps a personal event of your own, just give us a call or send us an email. You can find our contact information right here.