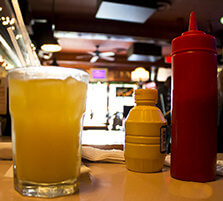 So many Limo Detroit customers call us up requesting a night on the town that consists of what we'd call "bar hopping," "club hopping," or for those pub lovers out there, "pub crawling!" Many of them want a mixture of all three. The absolute best way to travel for this kind of night out is in a limousine. There is just no question about that. Our premium luxury limousines are the most comfortable and convenient way to head out to the bars, and the fact that our professional chauffeurs will pick you up and drop you off right at the door means that you can totally forget about those traffic and parking worries! You'll be too busy having a great time in the back of our limos with your friends to even concern yourself with any of that. Limo Detroit customers say that's the greatest perk of travelling with us — but we say the best one is that you can drink to your heart's content and not have to worry about having a designated driver!
If you are planning to visit some of Detroit's best bars with Limo Detroit, then why not take a look at our list of favorite bars to give you an idea of the places you might like to visit? These are our personal favorites and the ones that we visit most often, and also the ones that our customers seem to request the most often, so please note that if you don't see your favorite bar here, it doesn't mean that it's not considered one of the best. This list comes from the heart, as lovers of all things that Detroit has to offer, and as supporters of local businesses that really add something special to the city. Here are our top picks.
OUR TOP SEVEN DETROIT BARS
#1: Cliff Bell's (2030 Park Avenue)
Undoubtedly, Cliff Bell's is our favorite place to go in all of Detroit. This bar has been going strong since 1935 if you can believe it, and the original owner Clifford Bell went to great strides to bring alcohol to the city of Detroit after Prohibition. Detroit was missing this bar for more than twenty years after it closed in 1985, but with its recent reopening, the city is again celebrating the really beautiful décor and the incredible jazz musicians who play live there. A real gem for the jazz lovers, and a stellar place for anyone who loves delicious food and impressive drinks.
#2: Ol' Shillelagh (349 Monroe Street)
If you are seeking the most classic of all Irish pubs in Detroit, Ol' Shillelagh has got to be the one. Everybody loves this place. It's been going strong since 1975, with a spacious downstairs area with a good sized dance floor, and an upstairs that includes an even bigger bar than the downstairs, plus a room with a stage for live music. You can usually hear some great local bands playing authentic Irish music here. Definitely a good time any night of the week.
#3: Foran's Grand Trunk Pub (612 Woodward Avenue)
Foran's Grand Trunk Pub has been going strong for longer than most bars in the area, and it is designated as a historical landmark in Michigan because of its history as the Grand Trunk Railroad's ticket station. The décor here is authentically retro, with incredible brass chandeliers, brick walls, and soaring 25-foot ceilings. The shepherd's pie is just out of this world, and you won't find a better pint of beer than what they've got on tap here at Foran's. Very highly recommended to all of our Limo Detroit customers.
#4: Cadieux Cafe (4300 Cadieux Road)
If you are seeking an authentic taste of Belgium, Cadieux Cafe is your go-to spot. It was a speak-easy back in the Prohibition days, and later it became the place to go for all of the Belgian folks that call our area home. Nowadays it's the place for anyone and everyone to come in and enjoy those famous steamed mussels that everybody loves. They've got feather bowling here too, which is something that you've got to try at least once in your lifetime. This is a great spot for special occasions and just for any night of the week, or as a very memorable stop on your pub crawl!
#5: Garden Bowl (4120 Woodward Avenue)
Garden Bowl is America's oldest running bowling alley if you can believe that, and needless to say this is an essential stop for your night out, especially if you have never been there before! It's the home of Detroit's Rock-n-Bowl, and there's so much more here than just bowling. You'll love the live DJ and bands, the dance floor, the food, the drinks... and you will especially enjoy taking advantage of their catering for your special events! Very affordable, and definitely a really good time smack dab in the middle of it all. We wouldn't dream of leaving this one off our list of favorites.
#6: Agave (4265 Woodward Avenue)
If you are seeking an amazing tequila bar, take note of Agave, which has been voted as Detroit's best tequila bar! Of course there's much more here than just tequila. You'll really fall in love with their delicious Mexican food, which is all superbly fresh and delicious, and prepared with the utmost attention to detail and quality. They're usually very busy with lots of locals hanging out and enjoying some drinks at the bar. One of the newer additions to Detroit's line-up, but we hope that it stays for a very long time to come.
#7: Carriage House (24200 Grand River)
We've been big fans of Carriage House for a very long time now, primarily for the incredible live blues that they feature. They've got an enormous bar here so you can really relax and enjoy yourself without feeling crowded even on their busiest nights. The musicians out there will want to note that they have open jam sessions on a regular basis, and you just may want to check that out. There's plenty to do here aside from live music and drinking — there are dart boards, pool tables, and even a well-stocked jukebox. Truly one of our highest recommendations.
All of us at Limo Detroit hope that you'll have the chance to enjoy a few of the bars above during your bar hopping / club hopping / pub crawling night of fun — and we hope that you'll give us a call or shoot us an email when you begin the planning process. We've always got special deals to help you save some money on transportation, and of course travelling to these bars is the safest way to do so since you don't even have to give a designated driver a second thought. There's no better driver out there for you than our professional chauffeurs. Plus you'll be travelling in style even in between destinations. Just give us a call or shoot us an email. You can find Limo Detroit's contact information right here.