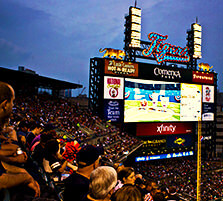 One of the best reasons to rent a limousine from Limo Detroit is to travel to one or more of your favorite Detroit sporting events! Detroit is definitely known for our incredible sports teams, and it doesn't matter whether you're a fan of Red Wings hockey, Pistons basketball, Tigers baseball, or Lions football, there is never a bad time to head out and watch your favorite teams play! Some of our biggest customers are sports fans who regularly head out to watch the games, and then some of our customers just do it as a once-in-a-while kind of thing. Whether you're an absolute sports fanatic or just a casual fan, you are sure to enjoy a day in the stands, enjoying a hot dog or a soft pretzel or whatever your favorite game day snack is! Let's talk about some of the best reasons to rent a limousine for Detroit sporting events!
TOP TEN REASONS TO RENT A LIMO FOR DETROIT SPORTING EVENTS
Our customers like their info concise, to the point, and fun, so here is a top ten list of the best reasons to rent a limousine when you are heading out to watch the Pistons, Red Wings, Lions, or Tigers play!
#1: You can forget about finding a designated driver.
A big part of game day is enjoying an ice cold beer (or two, or more!) and the last thing that you want to do is worry about having to drive home intoxicated, or calling an expensive cab and then leaving your car in the lot where it may be towed. Let our professional chauffeurs take all the worry out of the equation, so you and all your friends can party both in the stands and on the road!
#2: You can travel to more destinations after the game.
Your favorite after-game nightspots in Detroit should not be neglected whether your team wins or loses, and the best way to visit them all is to head out there in a limo! You don't have to worry about parking, parking fees, or even finding your car in the parking lot when you leave, because we will be dropping you off and picking you up right at the door!
#3: You can party on the road and celebrate your team's win!
Since our limos feature built-in acrylic or granite-topped bars, and we supply the ice and cups, all you have to do is bring your favorite beverages, both alcoholic and non-alcoholic! You can bring your favorite beers, wines, and liquors, or even stock the bar with lots of cool and refreshing sports drinks and iced coffee beverages. The possibilities are endless.
#4: You can deck the limo out in your team colors!
Bring your favorite penants for the interior, and deck out the windows of the limousine with washable window paint in your team colors! Red and white for the Red Wings, blue and silver for the Lions, orange and navy for the Tigers, or red and blue for the pistons!
#5: You can forget about being late to the game!
If you've ever been to a game in Detroit or Auburn Hills, you know that the freeway exits become a clogged mess, and sometimes just finding a parking can make you late for the start of the game. Limo Detroit knows all the shortcuts, and better yet we can drop you off right at the door so you don't have to walk from a miles-away parking spot!
#6: You can party like the pro players of your team, and travel in just as much style as they do!
When your favorite sports stars head out on the town, do you think they drive out in a cramped car and have all their friends follow them on the freeway? No way! They rent a limousine, often from Limo Detroit, and they head out in the utmost style and comfort. When you're traveling to the game, you'll experience the same level of comfort that they do. Now that's living it up.
#7: You can skip paying parking fees at the arena or in the area parking structures.
Parking fees are no fun. You have to pay sky-high amounts just to cram your car into a too-small parking space, and then still walk a mile to get to your seat. When you travel with us, as we have mentioned, we will be dropping you off right at the door to the venue. We'll be picking you back up there when you're ready to leave. That's a benefit that's much more worth paying for than a cold concrete parking spot that affords you no enjoyment whatsoever!
#8: You can impress your friends, or split costs with them and save money!
If you're paying for the entire trip yourself, let's face it, your friends will love you for life! They'll never forget that epic sports event and the incredible transportation that you provided for everybody. If your budget doesn't allow for that, then you can instead split the costs with all of your friends who will be attending, and you will all enjoy the luxury of it at a dramatically reduced cost. Either way, you come out the winner, because the spectacular sporting trip was your idea!
#9: You can watch televised sports coverage in the limo!
In our vehicles that feature HDTVs with HD antennas, you can watch live sports coverage on TV whenever the bus is parked. We also suggest that you bring along some of your favorites sports DVDs or sports-themed movies to watch on the DVD player while the bus is in motion! Our customers go wild over these features, and we know that you will love it too.
#10: You've got all the amenities you need right at your fingertips!
For the duration of your trip, you will be enjoying the finest luxuries, including plush leather wraparound seating, HDTVs with HD antennas and/or DVD players, high quality audio systems, charging docks for your high tech devices, built-in bars with coolers and cups, beautiful LED and/or fiber-optic lighting, color-changing walls and ceilings, and so much more.
BOOK YOUR LIMO EARLY, BECAUSE BIG GAME DAYS GET BOOKED UP FAST!
If you are planning to attend a Detroit sporting event within the immediate future, we suggest that you give us a call ASAP! Especially on big game days and weekends, our services get booked up very quickly. We always suggest booking any trip at least two weeks in advance, but with big sporting events we recommend it even further in advance. Just give us a call or send us an email right now to discuss your options! We look forward to serving your needs!