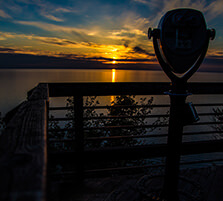 It's no secret that Michigan is full of treasures to discover, including restaurants, bars, shopping destinations, hotels, resorts, cottages, amusement parks, forest trails, and so much more! Most of us who have lived in Michigan all our lives or even for a short while have piled into the car and taken a road trip to discover some of the best things that Michigan has to offer, but have you ever thought about renting a limousine and doing the ultimate luxury road trip?
If you've never thought of taking a road trip in a limousine, why not? You'd be surprised to hear how many of our customers call us up with this type of trip in mind. Some people really love to be in the driver's seat during long road trips, but if you don't love it so much, why not leave the heavy lifting (or shall we say, heavy driving!) to our professional chauffeurs? You'll be traveling in supreme comfort, with food and drinks and even entertainment, and you'll never have to think twice about a gas pedal or a steering wheel. We'd love to share some ideas with you about how to make a limo road trip a truly memorable event!
UNIQUE IDEAS FOR A MEMORABLE MICHIGAN LIMO ROAD TRIP
Old Fashioned Yet Modern Family Road Trips
If you've got a bunch of kids (or maybe one kid and a whole lot of cousins!), right now is a great time to take a break from all the hustle and bustle of your busy workaday life and escape with all of them for an old fashioned road trip. It's old fashioned in the sense that you and your family will enjoy quality time together, but totally modern in the sense that you will also be living it up in a luxurious limousine as you do so! The kids will get a real kick out of it, and you'll get a thrill out of it too! You'll be able to stock our built-in bars with all the kids' sports drinks and snacks that you like, and we provide you with ice and cups too. It doesn't matter if you're heading out to a cottage on Lake St Clair for a weekend away with the family, or a day-long trip to Crossroads Village and Huckleberry Railroad in Flint so the kids can learn all about 19th century life and ride the trains and the carousel. No matter what you do, you'll be doing it together, building bonds and making memories.
For the Gambler in You, a Detroit Casino Road Trip
One of the newest and most exciting additions to the Detroit area is the casinos! We are the proud home of MGM Grand, Greektown Casino, and Motor City Casino! It seems that everyone has got their favorite, but why try to choose? You can head out with all your friends in a Limo Detroit vehicle and enjoy them all. We recommend visiting all three, but try planning your Greektown Casino visit for the middle of the day so you can also visit the exciting Greektown restaurants and bakeries for lunch! Of course the casino itself has some really incredible award-winning restaurants for you to visit within it, so you just may want to try those. Either way, if you're dining in Greektown, you know your meal will be amazing.
Music Lovers Will Appreciate a Concert Road Trip
Considering the fact that Michigan's biggest concert venue is The Palace of Auburn Hills, and Auburn Hills is about an hour-long trip for most Metro Detroiters depending on where they live, you might as well make a road trip out of it! The same thing goes for DTE Music Theatre (formerly Pine Knob) in Clarkston. Our customers always express to us how much they hate making that drive — even if the drive out there is tolerable, the drive home after a long concert is always so draining. Why not leave that to us? And of course you don't have to go home at all if you don't want to! You can head out to the casinos downtown or to any other nightspots that you enjoy. At the concert you'll also enjoy the fact that you won't have to pay for parking, and you won't have to walk around searching for your car when you leave either!
Aspiring Sommeliers Love a Michigan Wine Tour
Michigan wine tours are some of the best road trips that you'll ever take! Did you know that our beautful state has more than 15,000 acres of vineyards just teeming with grapes that will soon enough be turned into the most delicious reds and whites that you have ever tasted? It's such a joy to travel from winery to winery in a luxurious limousine, and since we have built-in bars in our vehicles with ice and cups, you can buy some bottles of wine while you're there and enjoy them on the road! Some of our favorite and most recommended Michigan wineries include St Julian Wine Company Tasting Room in Dundee, Spotted Dog Winery in Jackson, Cherry Creek Cellars in Albion, and Valentine Distilling Company in Ferndale.
WHEN IT'S TIME TO PUT THE PLANS IN MOTION FOR YOUR MICHIGAN ROAD TRIP...
When you're ready to begin the planning process and speak to us about renting a limousine for your Michigan road trip, all you've got to do is give us a call or send us an email. The people on our team have expert status as far as we're concerned, because they know best how to help you choose the perfect vehicle for your trip, how to map out the perfect array of destinations, and how to make your trip as utterly perfect as it could ever be. We'll be happy to work with you to find options that fit within any budget, and should you be one the lucky ones whose funds are overflowing, we'll be equally happy to pull out all the stops for you. We pride ourselves on our ability to make every customer feel like a million bucks, so just give us a call now and we'll talk about the ways in which we can do that for you.