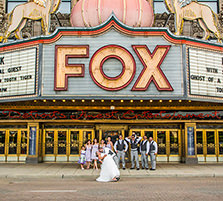 There are so many important factors that go into planning the perfect Michigan wedding. Whether you are celebrating your nuptials in the heart of downtown Detroit, or in any one of the beautiful cities that dot the land surrounding the hub of our metropolitan area, the very best choice for your transportation needs is definitely Limo Detroit. We have a fleet of vehicles and professional chauffeurs at your beck and call, and all you've got to do to begin the planning process with us is to give us a call or send us an email. Our contact info is at the top of every page of this site, and may also be found on our contact page. Before you get to that point, you might like to take a look at a few of our tips regarding putting together the perfect ceremony in Michigan. And here they are...
---
OUR FAVORITE MICHIGAN WEDDING VENUES
The Dearborn Inn
This has always been our favorite spot in Metro Detroit for a beautiful wedding. This historic establishment has been in business since 1931, and is set on an incredible 23 acres. If you're dreaming of an outdoor wedding and the weather allows for it, this is a very elegant choice. There are more than 200 guest rooms available so any guests hailing from out of town will be able to stay and enjoy themselves. The bridal party enjoys a hospitality suite, and the happy couple receives complimentary accommodations, a bottle of champagne, decor (including centerpieces and linens), cake cutting service, ice sculpture, chocolate fountains, a dance floor, wedding cakes, and more. "Full service" doesn't even begin to describe it!
Hotel St Regis
If your wedding has simply got to be in our beautiful downtown area, the clear choice is Hotel St Regis. This is also the best choice for the largest weddings, since they are one of the only venues around that can seat as many as 800 guests. The hospitality suite itself can hold up to 60, so that gives you an idea of the impressive scale and scope here. If you are having a smaller reception, you may want to opt for their ballroom, which can be divided into smaller sections for as few as 75 guests. This is one of the finest hotels and wedding venues in all of Metro Detroit, and so many of our guests have chosen it for their big day.
The Little Wedding Chapel
On the other end of the spectrum, if you are looking to keep your wedding simple and small yet elegant, The Little Wedding Chapel is the perfect choice. They have three different locations, and their special brand of service has even gotten them featured on CNN and CBS. Their settings are beautiful and tasteful, with both lakeside and victorian decor, depending on which of their locations you choose for your wedding day. Much less planning is needed for a ceremony this straightforward, and that effortlessly romantic touch is what makes this such a unique and special choice for a once-in-a-lifetime occasion.
---
---
DESIGNING THE PERFECT WEDDING CAKE
When it comes to picking the perfect wedding cake, there are several steps that you need to take. Begin by browsing wedding magazines to figure out what style you prefer. Choose a size based on the number of guests that you will have. Of course you'll want to incorporate the wedding colors that you have chosen, or perhaps go for something wild and do an iced chocolate cake! The old rules have really gone out the window and it's all about eye-catching surprises. Don't forget to look at the portfolio of cakes at your favorite bakery, and keep in mind that your cake will need to be ordered three to six months in advance! This may just be one of the very first things that you plan. Here are a few of our favorite bakeries that have served our Limo Detroit customers on their wedding days:
---
THE BEST WEDDING FLORISTS IN MICHIGAN
There are florists everywhere that you look, but some are better than others when it comes to wedding flowers. We recommend looking at online reviews and talking to your friends about what florists have served them well, and we've got some recommendations below for you too. Of course you'll want to choose on that is nearby, because the delivery fees can really add up, and the flowers will be fresher if they don't have a long trip ahead of them. Take a look at your favorite florists' websites too, because their online portfolios can give you some very helpful ideas and also show you what kind of looks they can achieve. Here are some elegant florists that we would very highly recommend to you, and that come highly recommended by our customers too:
---
THE VERY BEST DETROIT WEDDING DJs
Last but not least, what is a wedding reception without music? To cap off our recommendations, here are some excellent wedding DJs that we couldn't leave off our list:
---
BOOKING YOUR ALL-IMPORTANT WEDDING TRANSPORTATION
Once you have done all that, there's nothing to do but book your transportation! We stand by our statement that we are the best limousine company in Metro Detroit to handle your wedding transportation needs, and we look forward to making your wedding day even more special than it already will be. You can speak to us on the phone right now, or send us an email if you prefer, to begin the arrangements and to book your special day. For weddings, we recommend booking our services as early in advance as you possibly can, to ensure that our vehicles will be available to you! All it takes is a quick credit card deposit over the phone to lock down your dates and ensure your limousine. You'll find our contact info right here, and we look forward to speaking with you!