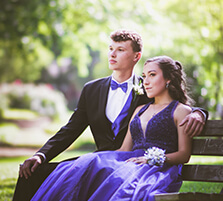 Are you considering renting a limousine from Limo Detroit for your big high school prom night here in Michigan? We hope so, because we are by far the best-equipped company to take care of all of your travel needs on prom night. It goes beyond just travel though. Once you've in one of our limos, it is pure entertainment and comfort. We have exciting features like built-in bars with coolers so you can stock it full of your favorite sports drinks and iced coffees, HDTVs with HD antennas and/or DVD players so you can watch all your favorite shows and movies on the road, plush leather seating so you'll be completely comfortable, and even charging docks for all of your iDevices and phones. We think of it all so you don't have to. On this page we've got a few suggestions that will help you to further utilize your prom night limo to add even more excitement to the prom of a lifetime!
SUGGESTIONS & IDEAS FOR MAKING YOUR DETROIT PROM NIGHT SPECIAL
Begin planning your prom night as much in advance as you possibly can.
There are so many factors that go into creating the most perfect prom night that the earlier you begin planning, the better! Three months in advance is not too early to begin, and it will save you both time and money. Note that the prices for prom dresses and tux rentals will go up as you get closer to prom-time, so the earlier you take care of those things, the more money you will save! There's more to planning a prom than just choosing a dress or a tux! You've got to find the perfect earrings and other accessories, or cufflinks if you're a guy, and of course there are corsages and boutonnieres to buy! For the ladies, there may be hair and makeup appointments to make, and you'll want to look through plenty of magazines to find just the right look for yourself.
Bring your favorite prom-themed movies to watch on the DVD player in the limo!
There are so many great prom-themed movies out there, and if any of these are your favorites you should definitely consider bringing your DVD copy with you on the road to watch in the limo: Pretty in Pink (great for the 80s movie lovers out there!), Carrie (perfect for horror movie fans), She's All That (hilarious geek-to-chic prom makeover flick from the 90s), Footloose (another 80s favorite!), and Never Been Kissed (what's prom night without Josie Grossie?). And there are so many more great ones to choose from. Alternatively you could bring the soundtracks from those movies — they'll sound sensational on our high quality audio systems!
Choose the right transportation to make your prom night memorable.
Choosing transportation is one of the most important parts of planning your prom, and undoubtedly the most in-demand vehicle for prom night is a limousine. Of course we're biased and we're going to tell you that Limo Detroit is the best company for the job, but you don't have to take our word for it. You can call us to get some customer references, and we'll be sure to point you to prom customers so you can find out about what their experience was like with us. No matter what mode of transportation you ultimately choose, you'll want to make sure that you get a smooth ride, a spacious interior, and a professional chauffeur. With us, you can get all that and more, affordably and easily.
Play the hero (or heroine!) or split the costs, you can't lose either way!
When it comes to the cost for renting a limousine for your prom night, if you've got the money to spend, you can be the one who rents it and then let all your friends travel with you for free. They will love you to death for it, and you'll come out the hero (or heroine!) of the night. If your budget isn't quite so accommodating, you can offer to split the costs among all of them, and they'll still adore you for putting the plan together and helping to save them money. It's an absolute win-win for both you and your friends!
Take advantage of your incredible transportation even before and after the main event.
Of course, you know that there's more to the prom than just the dance! You can take advantage of our transportation services all day long! Perhaps to take you to your pre-prom salon or barber appointment, to pick up any last-minute items that you forgot to buy earlier, and of course to pick up all of your friends to go to the prom. Then afterward, you may want to make use of our services to go to your favorite restaurants, or to head to an after-prom party at a hotel or at a friend's house. You're welcome to keep the limo for as long as you like, and you'll never see any extra fees for it. We'll just continue to charge you the same hourly rate that we spoke about during the booking process. Note that we split each hour into four chunks of time so that you are never billed for any time that you don't actually use.
SAVE HASSLE BY BOOKING YOUR PROM NIGHT TRANSPORTATION NOW
It doesn't matter how far in advance you're reading this — it's never too early to book your prom night transportation. Prom season is our busiest season of the year, and if you don't book plenty early, we might have already rented out all of our vehicles for that night! We suggest that you give us a call right now even if you're only in the planning phase, because we can help to put all of your ideas into play, and suggest further ways to make your prom trip an even more enjoyable and affordable one. You'll be able to reach us anytime via the info on our contact page, and we really look forward to helping to make your prom incredible!